Want to transform your current bathroom?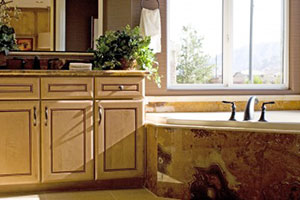 You want to remodel your bathroom, but you don't want to break the bank? Steve and AFL are the best fit for the Job! Renovation is our passion. We only use licensed plumbers, electricians, HVAC and construction professionals. Remodeling your bathroom can be a daunting task! So why not hire the professionals to help you.
From faucets and fixtures to patterns, and products. You will always receive the highest quality craftsmanship from us. Your bathroom is one of the most private spaces in your home, yet it's also one of the rooms that the household uses the most! Impress your guests with beautiful custom tile work, fixtures and much more. Let us help you design the perfect powder room or "Throne" room.
Relax in the bathroom of your dreams; we have the top bathroom design experts to help from beginning to end.
Whether it's a simple update or a total redo to install a luxurious dream spa with rain showers and heated floors. When selecting a home improvement company to do business with, you want a trustworthy contractor with high Standards! That's us!! We take pride in our workmanship. Trust us we will transform your bathroom.
We are committed to completing your home improvement on schedule and within budget – every time!
We know the best way to run a successful business is to have satisfied customers. It is our #1 goal to make every customer a repeat customer and friend. It's easier to do good work and have satisfied customers than it is to go find new customers. Once a client always a client.
If you're interested in bathroom renovations or a bathroom remodel, AFL can add a beautiful and contemporary décor your home. You get the benefit of our vast bathroom remodeling experience.
Whether your goal is luxury bathroom design or small bathroom remodeling, you want your bathroom to give you comfort and contemporary style. But there are so many choices:
Elegant granite or marble countertops.
Beautiful vanities and cabinets.
Single or double bathroom sinks.
Ceramic wall tiling and laminate flooring.
Whirlpool tub or soft bathtub.
We will work with you closely so that your bathroom reflects your taste and sets just the right tone. AFL design professionals offer you extensive product knowledge and exciting ideas. Our goal is to maximize and beautify your bathroom's space.